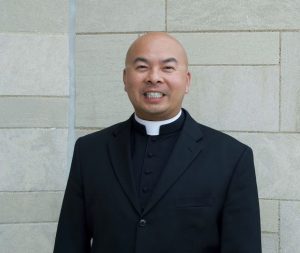 Dear Parishioners & Visitors,
At the end a very derisive and divided year in our country, the Prince of Peace comes into our midst!  "The people dwelling in darkness have seen a great light!" (Mt 4:16).  We celebrate with JOY even now because the Savior of the world, who comes to us in humble form in the baby Jesus this Christmas, has ushered in that inextinguishable light amidst the darkness.  History finds its consummation in His-story!  It will be His Reign of faith, hope and love that is victorious over the passing self-destructive evils in our world.  He simply asks us to remain faithful to Him unto the end.
Faithful to God and to one another
How do we remain faithful?  Well, that is all that we are about here at St. John.  Our parish life is centered on following Jesus, Emmanuel, God-with-us, who gives us Himself as strength and nourishment in the life of the Church.  We're all sinners, yes, but Jesus makes us better people:  better fathers and mothers, better sons and daughters, better spouses, better citizens.  
We Invite You!
So if you are not a "regular," we invite you to become one and join this joyful band of Jesus' disciples!  Make St. John your spiritual home. Maybe simply coming back to Mass isn't the best place to begin!  If you feel like Mass is boring and irrelevant, that's a good sign we need to go back to the basics, which is why we call our 6:30 p.m. Wednesday night faith formation classes "Catholicism 101."  No RSVP needed, but feel free to give our Director of Faith Formation, Todd Gale, a heads up!  It's in our faith formation classes that we realize that Mass isn't meant to be fun and entertaining, but sacred and transcendent, inviting us to contemplate on the deepest part of what it means to be human.
Who is Jesus?
Perhaps during today's celebration, you sensed the Lord calling you to a deeper relationship with him.  But maybe you may not even know much about who Jesus really is and that you can actually have a personal relationship with God!  If so, take advantage of our Alpha course.  Enjoy a complimentary and tasty dinner, meet new friends who have the same questions about the meaning of life, and get to know this one who said, "I am the Way, the Truth, and the LIfe."  He will lead you in a journey that is beyond our imagining.  The next one begins on February 8, and you're not committed to come to the following five of the weekly sessions.  Come again only if it piques your interest!  And parents, let us know if you need complimentary child care!
Don't Forget Your Christmas Gifts!
Formed.org Subscription

–

Our busy schedules can sometimes make continual adult faith formation difficult.  Our Formed.org parish subscription, free for all registered parishioners, allows you to

grow in the knowledge of your faith whenever it is most convenient for you.

 It gives you access to engaging presentations that have high production quality, as well as many faith-based movies and audio talks to download for your workouts or work commutes (Good Shepherd Catholic Radio 93.3 FM is also good for those)!  Simply go to Formed.org, and enter our special parish access code of

0766a8

at the login page.  

Mass Journal

–

This one, very simple habit may transform the way you look at your entire week.  Why?  Because it's a simple reminder for the rest of the week of how God struck or communicated to you during your time with him at Holy Mass.  Please pick one up only if you commit to using it and bringing it with you to Sunday Mass!

Bishop Barron's "CATHOLICISM: Pivotal Players – Michelangelo" DVD

–

I am very grateful for your Christmas gifts, and so I hope you enjoy my gift to your household. Bishop Robert Barron is immensely popular, and you can see why in this episode of his newest Emmy-nominated DVD series.  Please enjoy the beautiful footage and Bishop Barron's profound insights on the works of one of greatest artists in all of history!
May these gifts give you the spiritual boost we all need to live life in 2018 with meaning and fulfillment!  A very Merry Christmas to you and yours, and don't be a stranger!  
Yours in Christ,
Fr. Chas