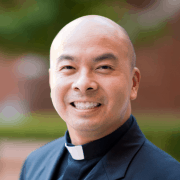 Dear Parish Family,
JOY has come into the world because our Savior is born for us! Amidst the darkness, a light shines brightly, the hope of humanity, Jesus Christ our Lord! A very Merry Christmas to you and yours! For those who we don't see very often outside the Christmas season, I encourage you to make a new year's resolution for your spiritual health to come and worship the Lord every Sunday. Doing so places all of life's worries into perspective, brings families together, and instills in us hope, faith, and love.
One of my favorite parts of the Christmas season is receiving the annual Christmas card photo of families and friends. Especially since it is my first year here, I encourage you to send me one of your family. This helps me get to know you, put a name to your face, and to know a little something about you.
Through this bulletin, I am doing the same. You'll see the photo my family took when I got to visit them for Thanksgiving last month. They are all back in my hometown of Columbia, Missouri. You see my parents seated. Both are retired physicians who originally met in medical school; my father was a radiation oncologist and my mother an OB/GYN, who also subspecialized in treating cancer. They had to leave their practice in Cebu, Philippines in because of the threat to the life of my grandfather because the dictator, Ferdinand Marcos, had declared martial law in 1972.
My parents are now in their late 80s. Please say a prayer for my mother if you get a chance, as she undergoes peritoneal dialysis, which prevents her from ever coming to visit here in Michigan. Also pictured are my two brothers and their wives (N.J. & Peggy and Chip & Sarah), along with my nephew Solomon. All of them live within three blocks of each other. Not pictured is my sister and her family, who split time in their homes in Las Vegas and the Philippines. Though a small immediate family, we have a very large extended family.
So, from my family to yours, have a most blessed Christmas season! For us Catholics, that continues all the way through Sunday, January 11 when we celebrate the feast of the Baptism of the Lord!
Christmas blessings,
Fr. Chas