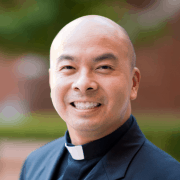 Dear Parish Family,
One of the things about which I was very surprised when I received the great news of becoming pastor here was that we did not have our own website.  Thanks to Jeromy of Alexander Enterprises, whom we have hired part-time as our technical consultant, we changed that!  We now have our own web presence at www.stjohnjackson.org.
The website is still in its rudimentary stages, and there is so much planned to include in it in order to keep you continually updated on all the various events and opportunities we have here at St. John the Evangelist Parish in both of our locations of St. John Church and St. Joseph Oratory.  Because of our current lack of resources, we cannot do everything we hope to right away.  For now, however, please check out the website in its skeletal form.
Here are just some of things we include regularly on the website:
Priests' Bulletin Articles & Homilies either summarized or recorded
Information on Parish-wide Events such as our Parish Festivals and Fireside Chat neighborhood gatherings (which will be updated in the next couple of weeks).  For example, check out the schedule for our Heritage Festival next weekend in the "News/Blog" section.
Easy Online Updating of Parishioner Contact Information
Your Email, Please, So I Can Invite You to "Pop Open a Cold One!"
Speaking of contact information, I would like to send each parishioner an electronic invite (an evite) to a Fireside Chat near you.  Thus, please update us with the email addresses of the folks in your household.  There are two ways to go about doing so.  Either 1) go to our website and do it online (www.stjohnjackson.org/about-us/update-membership/) or 2) if online communication is not your cup of tea, just give us a call at 784-0553.
"Like" Our Facebook Page – facebook.com/stjohnjackson
We now also have a presence on Facebook and Google+.  So, if you use either means of social media, please visit our new profiles on those outlets.  If you have any suggestions regarding these or our websites, please contact our technical consultant, Jeromy Alexander, at jeromy@stjohnjackson.org.
Our Version of "Chicken Soup for the Soul"
Since we are now posting our homilies, either through an audio version or summarized in the bulletin, we already have had some great feedback.  They are providing a way to share the Gospel with others and to reflect further on that Sunday's Scriptures.  Here's a couple of great stories on how homily postings are helping:
One parishioner sent the link to the recording of my homily from a couple of weeks ago to a friend who stopped going to church.  The following Sunday at Mass, I saw and met that very person.
Another parishioner said that it allows him to listen to the homily he missed, depending on which priest is celebrating the Mass he attends.
A couple said that they can now listen to homilies from their home parish even while they winter in Florida.
So that God's word may soak in more deeply in your lives during the week and not just on Sunday, I encourage you to take advantage of this new feature.  For example, here is the link to my homily from last week on the Parable of the Sower, in which Jesus identifies three different conditions of the heart that prevent God's rich word from taking root in our lives.  I offer Pope Francis' advice to changing that, so that you can bear the kind of fruit that God desires to use to dramatically affect people's lives for the good and to beautify the world around us: www.stjohnjackson.org/2014/homily-by-fr-chas-7-13-14/.
Blessings on the week ahead,
Father Chas