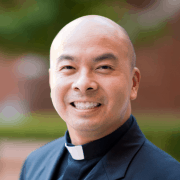 Dear Parish Family,
Already on the 5th Sunday of Lent, we only have two weeks to go before the Resurrection of Easter!  The topic this week for Faith Formation Friday is a very fitting one, given what we celebrate this upcoming Holy Week, "The Paschal Mystery: The Mystery of Jesus' Death and
Resurrection."  It begins at 6:30 p.m., but feel free to come and enjoy our Lenten Soup Supper beforehand anytime after 5:00 p.m., when we also have Stations of the Cross at the church.
Lent is also the most popular time to observe the second precept of the Church of confessing your sins at least once a year.  We of course should also confess should we ever be in a state of mortal sin, abstaining from receiving holy communion until we have done so.  So please take
advantage of many opportunities for the Sacrament of Reconciliation during this Holy
season!  We had our penance service this past Monday.  Even if you missed that one, there are
a couple of others where Fr. Kurian and I will be assisting:  1) Monday, March 23 at St. Rita in Clarklake, 2) Tuesday, March 24 at Queen's, and 3) Saturday, March 28 at St. Mary Star of the Sea.
Fr. Chas' Fireside Chats
You'll see in this week's bulletins some photos from recent Fireside Chats.  We are now over our halfway mark of the 24 neighborhood gatherings that we would like to have in the first year of my pastorate!  It has been delightful to get to know our parishioners in the cozy ambiance of various homes around Jackson!  Thank you to our recent hosts:  1) Feb. 12 – Tony & Stephanie Kiszka, 2) Feb. 26 – Dale & Jill Robert, 3) March 12 – Jack & Joyce Fremeau, and 4) March 19 – John & Jill Dullock.
Because of the wonderful response from parishioners opening up their homes for these
Fireside Chats, we have not once had to ask any people in particular.  We still have a number who have volunteered, but due to the limited availability of the remaining Thursdays, we would like to have more willing hosts come forward.  Please see if you live in one of the remaining neighborhoods where we still have yet to have a Fireside Chat and consider opening up your home for these enjoyable evenings with your pastor and neighboring parishioners!
Yours in Christ,
Fr. Chas