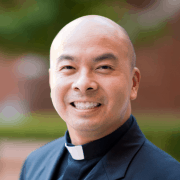 Dear Parish Family,
One of the sweetest people we know, Barb Dwyer, is unfortunately retiring from her position as Coordinator of Senior Ministry at the end of June.  We can understand how her husband Moe wants to spend more time with her because we would too!  She has been a mainstay for our seniors, particularly those parishioners who are homebound.  She maintained a robust schedule of visiting them and coordinated the homebound visits by our other volunteer parishioners.  Thankfully, she will maintain a few hours a week visiting a lucky few after she retires.  You can see her personal announcement in this same bulletin.  Please let us know if you would like to volunteer in visiting our homebound seniors.
We will be in search of hiring someone to fulfill Barb's coordinating duties, but one who will also be charged with helping begin a women's ministry.  Together with Todd Gale, our Director of Faith Formation, who is beginning a men's ministry in our parish, they will be able to minister to the needs of our parish families.  With the great challenges of our time, our young families in particular need special support to strengthen their marriages and family.  How many of our own relatives have fallen away from their Catholic faith because of troubles in their family life?  Thus, as Barb retires and leaves a big void, we will post the position of Coordinator of Senior and Family Life Ministry.
Our Saturday 5:45 p.m. Mass and future Sunday 5:00 p.m. Mass
Thank you to everyone who gave us feedback through our online suggestion box, notes, and conversation.  There has been enormous support for the addition of a 5:00 p.m. Sunday evening Mass, particularly from our young families.  I visited the Knights of Columbus meeting to get their feedback, and they were unanimously in favor of it.  Several Lumen Christi folks who often attend the 5:00 p.m. Mass at Queens also expressed appreciation for the idea because that Mass has been seasonal, based on when school is in session.  This option gives a year-round stability to that Mass time.  Finally, the members of our parish pastoral council were all in favor of it with June 7 as the first celebration of that 5:00 p.m. Mass.
There were a few parishioners who expressed dismay at the prospect of losing our 5:45 p.m. Mass.  Even though it is by far our least attended Mass, I want to give full consideration to the concerns expressed by these individuals.  As you may know, the bishop gives priests the faculties to celebrate no more than three Sunday Masses, so as to guard against priest burnout and maintain the sense that Mass is the supreme gift of God because in it the Lord gives us himself.    
Special permission, however, can be granted to celebrate a fourth Sunday Mass.  Out of pastoral concern for these few parishioners, I asked the bishop for that special permission so as to retain that Saturday 5:45 p.m. Mass.  Out of concern for me, he responded how he really would prefer not to, but if I thought it was necessary, then he would allow it only on an ad experimentum basis.  In other words, he gave his temporary permission, but would like me to report back to him after some months to see if it truly is worthwhile to retain that Mass time.  
I shared this with our parish pastoral council, and they expressed the same concern as the bishop, but agreed to retain the Mass temporarily.  Thus, we will continue to celebrate the 5:45 p.m. Mass and in the coming months see if the number of people remains steady.  Seven Mass times is a lot, but if we can keep their attendance up, I find them worth the extra effort.