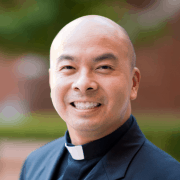 Dear Parish Family,
Most of you I suppose have seen or at least heard about the several undercover videos from the Center for Medical Progress implicating Planned Parenthood (PP) of harvesting the body parts of aborted babies and selling them for research. If you've avoided them, I don't blame you because they are very disturbing and gruesome videos that show the harsh realities of the abortion industry. If, however, one has fallen into the mantra of abortion advocates that the "products of conception" are not distinct human lives and thus worthy of protection, then I do encourage that person to view them.
The videos show top PP officials and abortionists callously discussing the crushing of the fetus in such ways so as to better preserve intact organs, discussing the price of those organs, and PP employees taking the remains, for example, of a 20-week baby from an abortion earlier that day stored in the clinic's freezer, all the while flippantly identifying the various body parts shown by the hidden camera and saying things like, "another boy!"
Despite PP's hiring of a top PR firm to pressure the media to keep quiet about the videos, they have caused such a national uproar that early last week the Senate voted on a motion to defund Planned Parenthood of the half a billion dollars it gets annually from our tax dollars. The 53-46 vote failed by seven votes to get the sixty votes necessary to bypass the Democratic filibuster. Even if it had passed, President Obama has vowed to veto any such legislation.
Whatever the outcome of the investigation of Planned Parenthood, the video footage clearly reveals that what happens in an abortion is the killing of a human life. A woman's body does not contain two heads, two hearts, two livers, four hands and four feet. Our society has so sanitized the language of abortion and become so protective of our sexual license that, while we are outraged by the kill of a lion in Africa, we yawn at the legalized killing of over 3,000 children per day in our own country.
So what do we do? Three simple things: 1) pray, 2) educate, and 3) act in the public square. More about these three things next week, but I'll conclude with the words of Martin Luther King, Jr.:
"The ultimate measure of a man is not where he stands in moments of comfort and convenience, but where he stands at times of challenge and controversy."
Yours in Christ,
Fr. Chas