As many of you know, Andy Bihl, our Director of Parish Operations, passed away on Saturday morning, November 24.  His wife, Amanda, called me with the tragic news at about noon that day, and I drove out to Albion to the Bihl home to be with the her and the five children.  The investigating Michigan State Police trooper later confirmed with Amanda from the autopsy that Andy suffered a heart attack while driving on I-94, suffering acute CHF (congestive heart failure) from cardiomyopathy and CAD (coronary artery disease).                 
We were and still are stunned by this great and unexpected loss.  Andy came to us two years ago desirous of applying his extensive business background to serving God's people and sharing the Good News.  While his credentials of having his M.B.A. and years of experience as a director of business development and of facility services at college campuses were impressive, it was his sense of calling and his eager desire to serve that set him apart from the other qualified candidates.  He wrote, "I have come to a clear understanding that the happiest times in my life have been when I was most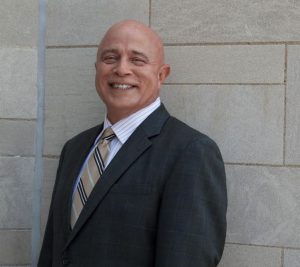 intimately involved with serving Christ through His Church."
That sense of calling was so strong that he was willing to leave his native Ohio to serve the people of God from "that state up north."  While Fr. Brian and I get to honor Andy on the day of his funeral on Thursday, November 29, we wanted to give a few of the staff the opportunity to share and give tribute to our dear friend and brother in the Lord, Andy, and give you a deeper insight into his life.

Yours in Christ,
Fr. Chas

"What we will always remember about Andy Bihl is his strong belief in building personal relationships.  He spent an hour with us each week getting to know us, and letting us get to know him. We shared stories on topics ranging from work to play, growing up to growing old, raising chickens to raising children.  Just as Jesus took the time to sit and talk with His disciples, Andy's time with us spent building a personal connection formed a trust and a bond that we will cherish for the rest of our lives."
–Jen Mietelka  & Brian Mick,
St. John Cemetery

"Andy started as an acquaintance, then a coworker, and before long, a good friend. I never questioned his love for the Lord, for his family, nor for his friends – it was always apparent. I treasure the conversations shared with Andy where he laughed with me and especially those when he cried with me, lending out a compassionate hand in difficult seasons of life. He was always willing to listen, to share his heart, and of course to sprinkle in a few Andy Bihl original stories and jokes here and there. There will never be another person like Andy – his memory will live on in my life forever."  –Jean Howe, Finance Manager
"Andy Bihl was a larger than life character. He confidently tackled anything that was before him, and I learned a great deal from him in the realm of personal interactions. I saw him use his Georgian accent and southern charm to calm situations that could have been escalated, I heard him maneuver a conversation politely the direction he wanted it to go, I saw him witness to total strangers about Jesus and invite them to St. John and St. Joseph for Mass. He never slowed down. Not only did he work very long hours for the parish, his family had egg-laying hens, a horse, a garden the size of a small farm, and he and Amanda have five kids still at home with them! Whenever Andy set his mind at something, he gave it his all. When Fr. Chas, Andy and I entered into a serious weight-loss competition, Andy won the money.  He had a story for every occasion and a friend in every town. He recently beamed when he talked about how his work at St. John has been the best few years of his life; how he learned to really pray while here; and he had an ever-deepening experience of the Mass. But he shined the most when he bragged about his beautiful wife, Amanda and the kids. He always said he had three buckets to pour his life into: God, his family and work. In the short time we got to know Andy Bihl, those three buckets had filled to overflowing. Sir Andy, I salute you. I wish I got to know you better. You will be missed. Pray for us!"
–Todd Gale, Director of Faith Formation

And since we had more reflections than we could share here, on behalf of the staff of St. John Parish, we'd like to extend this "good-bye" and "thank you":  Andy, we miss you dearly. Thank you for your dedication to St. John Parish. Thank you for being you. Thank you for showing so clearly the importance of God, family, and work.  They were your strong focus in all that you did. We have all lost not only a colleague but a friend and a true man of God. May the angels welcome you to Paradise.
++++++++++++++++++++++++++++++
Because so many have asked, cards of support and sympathy can be sent to Andy's wife Amanda at 16405 E. Erie Rd., Albion, MI 49224 or dropped off at the Parish Center . Thank you for the outpouring of love and support already offered. Our parish family is truly a sign of Christ's love for others.