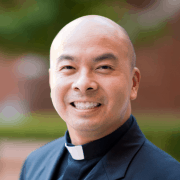 Dear Parish Family,
My column for the Sunday bulletin is due on Wednesday, and this particular Wednesday happens to be the very first feast day that we celebrate St. John Paul the Great since his canonization this past April 27. He is a personal hero to so many who grew up during his pontificate. He was and still is an inspiration to me and my vocation.
St. John Paul the Great had the uncanny ability to have multitudes of people feel so close to him. That certainly was the case for me in my first encounter with him in Denver for the 1993 World Youth Day. I was a junior in college when his words spoke to so many of us. I have repeatedly run into people who are now priests, religious, or lay people working in the Church who were among the 500,000 young people who were there at Cherry Creek State Park on that day, many of whom marked that moment as a huge spiritual turning point in their lives.
This most traveled pope in history is of course known for bringing the Good News to the ends of the earth, making more than 100 foreign trips and traveling three times the distance between the earth and moon. He was the third longest serving pope from 1978 to 2005. He was instrumental in the fall of communism. He survived an assassination attempt and even sought out and forgave his assailant. Through his myriad papal writings and addresses, he developed and solidified the patrimony of the Second Vatican Council. Above all, he led the Church in a superlative way to know, love and serve the Lord Jesus Christ.
In all this, he was so very human! As a young man, he had worked in the salt mines and studied for the priesthood clandestinely due to the Nazi occupation in his Polish homeland. Among his hobbies, he was an avid skier, hiker, kayaker, poet, and actor. He remained young at heart, which allowed this formidable scholar to remain so eminently relatable to the youth.
As his list of accomplishments and engaging stories are too long for a bulletin column, I would recommend reading the huge tome by George Weigel, Witness to Hope. If you are looking for something much shorter that is written in a more popular style, you'll enjoy St. John Paul the Great: His Five Loves, a recent book written by Jason Evert.
Some folks have asked me, "How does one even get the title 'the Great'?" The Church has no official process for deeming a saint that title. It simply occurs through popular acclaim and continued usage. Only three other popes of the 265 Successors of Peter have had the title stand the test of time. Since, in this country alone, a few books, a Catholic university, a couple of high schools, and a parish have already used "John Paul the Great" in their name, I would say this Holy Father is off to a good start. We here in the Diocese of Lansing already have such a place: St. John Paul the Great Chapel at Lansing Catholic High School's chapel.
It is fitting to conclude this remembrance of him in his own words. They are words I heard with 2 million others at World Youth Day in Rome during the Jubilee Year 2000. He always drew us back to the Source, he who is the Way, the Truth, and the Life:
"It is Jesus in fact that you seek when you dream of happiness, he is waiting for you when nothing else you find satisfies you; he is the beauty to which you are so attracted; it is he who provokes you with that thirst for fullness that will not let you settle for compromise; it is he who urges you to shed the masks of a false life; it is he who reads in your hearts your most genuine choices, the choices that others try to stifle.
"It is Jesus who stirs in you the desire to do something great with your lives, the will to follow an ideal, the refusal to allow yourselves to be grounded down by mediocrity, the courage to commit yourselves humbly and patiently to improving yourselves and society, making the world more human and more fraternal."
Yours in Christ,
Fr. Chas