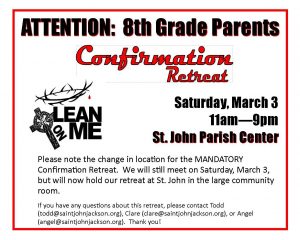 Our Confirmation retreat is almost here! This retreat is MANDATORY for all 8th grade students who wish to get confirmed this coming Fall.
We will be meeting in the St. John Parish Center this Saturday, March 3, 2018.  The day will run 11am-9pm and include Mass (yes, this fulfills your Sunday obligation).
We are excited to spend the day with our confirmation students as we encounter the Lord together through prayer, worship, adoration, Mass, and more!
There is no charge for this retreat, however we would appreciate any donation (suggested $20) to help us cover costs for food and supplies.