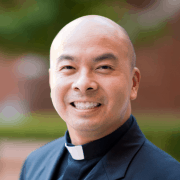 Dear Parish Family,
We had a beautiful celebration of Deacon Dave Etters' diaconal ordination last weekend.  If you haven't already, please give him your personal congratulations the next time you see him!
I do have some sad news to share.  My mother, Lolita Canoy, passed away earlier this week.  As you read these words, I am in the town of my childhood, Columbia, Missouri, celebrating either a Saturday or Monday funeral.  I invite you to please join me in prayer for the repose of her soul.  She was a faithful disciple of Christ and his Church, and she has taken these last couple of years of her illness with such patience and grace.  With the support of our prayers to speed her on the way, we have great hope that she will soon see her beloved Lord.
When my mother, Lolita Montano at the time, met my father, Nestor, they were both medical students at the University of the Philippines.  After graduating, they spent their residency together in Virginia.  They moved to back to Cebu in the Philippines to begin their medical practices with Mom as an obstetrician.  When the tyrannical President Ferdinand Marcos declared martial law in 1972, our family was in danger, and so they left the life they loved and suddenly had to begin again in a faraway land.
That faraway land was Missouri.  The rest of our family was able to make it to the Show-Me-State in stages through the 1970s.  With both having been offered positions at Ellis Fischel Cancer Center, the college town of Columbia, Missouri was a wonderful place to grow up for my younger brother and me.  My favorite memories were playing golf as a family each weekend that weather would permit.  Spending hours on the golf course with my parents allowed them to impart so much of themselves to me.  It was our regular family time together.  That golf was much more than a sport for us is a big reason why I'm an avid fan even today.
A final memory I had was often waking up on summer days to Mom playing Debussy's soothing piece, Clair de Lune.  One of her regular practices in beginning the day, after she and Dad had prayed together, attended 6:30 a.m. daily Mass and had breakfast, she would often begin her piano practice with this beautiful pensive piece.  It was so much better than an alarm clock!  May this daughter of God, Lolita, now wake to the lyrical sound of the angels!
Yours in God's eternal family,
Fr. Chas