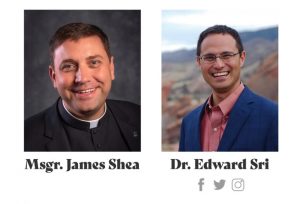 |SEEK AND YOU WILL FIND|
|KNOCK AND THE DOOR WILL BE OPENED TO YOU|
|FOR THE ONE WHO SEEKS, FINDS;
AND TO THE ONE WHO KNOCKS, THE DOOR WILL BE OPENED.|
Built on small groups, SEEK22 is designed to bring you the same energy, dynamic content, and inspiration that SEEK always has, with a unique opportunity to go deeper in mission as you accompany the people closest to you.
Encounter the heart of the Gospel together and receive the ongoing support you need to be beacons of hope for our world!
SEEK is about community. This isn't some average webinar or virtual conference you watch alone. SEEK is a fully immersive event, meant to be experienced alongside others. Gather with your parish family to be equipped with what you need to live as true missionary disciples in your parish—and be inspired by thousands of Catholics around the globe who are doing the same.
SEEK is for YOU. Wherever you are in your life or faith journey, SEEK will bring your parish community the most engaging content on all matters of faith, life, happiness and salvation. No matter whether you're a long-time or brand-new parishioner, pastor, RCIA student, leader of the church choir or member of parish staff, SEEK is for you.
Join us for 3 days of inspiring Catholic speakers, Adoration, and small group discussion at the SEEK22 conference from FOCUS (Fellowship of Catholic University Students).  We ask you to join a small group at someone's home or attend at the Parish Center (as space allows).  Fee: $50/person
Here's the tentative schedule:   (SEE OUR FINALIZED SCHEDULE BELOW on our flyer)
Day 1:  Friday, 2/18, 6:15-9 p.m.,  Desserts and Opening Speakers
Day 2: Saturday, 2/19, 1 p.m.-9:30 p.m.  Keynotes & Discussion in the Afternoon; 4:15 Mass; Dinner and Evening Speakers followed by Adoration and Confession
Day 3: Sunday, 2/20, 11 a.m.- 1:30 p.m. Mass, K of C Breakfast (if you choose); Speakers and Discussion (12:15-2:30)
Hosts of  Small Groups in your home are free to tailor the schedule the meet the needs of their groups. (For instance, if your group would like to attend Mass at St. John in the morning, you could always do your small group time in the afternoon or evening on Sunday OR, as another example, a host may choose to participate only on Saturday, covering content from Thursday-Saturday.)
Participants:  As much as possible, we would like you to experience this with a group or another person!
Follow this link to Sign-Up!
{Please note: Each participant must fill out an individual form.  Do not include two people on one.}
https://www.mission-suite.com/forms/84fa133a-229a-4947-8fce-913d8c3a83a5/submit