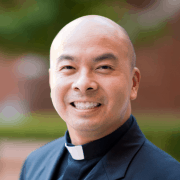 In this past Tuesday's Gospel (Mark 9:30-37), Jesus gave his original disciples and, by way of the Sacred Scriptures, gave us present-day disciples a beautiful lesson on what comprises true greatness.  As they were journeying to Capernaum, the Twelve were talking amongst themselves about who was the greatest among them.  When they get to Capernaum, Jesus asks them what they were discussing on the way.  He already knew full well what they were talking about, but Jesus wants them to recall the standards by which they measured greatness.  
Before we hear Jesus' answer, what about our own idea of what greatness entails?  Do we think more of what the world thinks greatness is or what Jesus thinks greatness is?  Do we think of it in terms of worldly success, such as making it to the top of one's occupation or field?  Are the measures of greatness popularity, admiration, and positions of authority and influence?  Is greatness about fame and fortune?
What Jesus teaches once again turns the worldly way of thinking about greatness upside down.  Note that the disciples were thinking of it in terms of their own personal outcome and rewards.  Being great was to sit at Jesus' right and left in the heavenly Kingdom.  But Jesus is saying that's the wrong focus!  Greatness lies not in the position and authority that you have, but how you are in whatever your sphere of influence is.  Greatness is not what you have, but how you are.
So Jesus tells them, "If anyone wishes to be first, he shall be the last of all and the servant of all."  Greatness lies in sacrificial service.  God has not made life to be a zero-sum game.  In fact, in fashioning us in his own image, he has made us so that our fulfillment lies in the sacrificial giving of ourselves, which is the central truth at play in Jesus' foretold death and resurrection.  It is in giving that we receive.  
Consequently, as the Gospel reminds us, the ones God exalts, the great ones, are people who would receive little children as they would receive the Lord himself.  In other words, if we are to be great in God's terms, our giving is not calculated.  Greatness is not about how we can jockey our way to the top; the only way to the top in God's kingdom is by having a heart that wants to help lift everyone else up there first.
In this upcoming season of Lent, let's aspire for true greatness through our loving care to those in our families, our parish, and our community.  
Our Parish Lenten Project
One way we can be of service this Lent is through this year's Lenten Project.  Our Christian Service committee has selected three wonderful causes, two local ones and one international project that we've supported in the past and is very popular with our parishioners.  Our funds donated into the wooden house near the St. Joseph statue will go to these causes:
The Adult Guardian Services of Family Service Children's Aid

– Serving Jackson County, this provides guardians for vulnerable adults (about 400+ people) in our community who have no family or others to make decisions for them.

Handle with Care

– After choosing up to three local schools, donate items to them that help create a comfortable and calming space in their school for children who, due to some experienced trauma, need to leave their classroom for short periods during the school day.

Lingap Center

– This foundation provides food, shelter, education and hope to neglected, abused, and exploited children in the Toledo City area of the Philippines.
We will feature more detailed information on each project throughout the Sundays of Lent.
Yours in Christ,
Fr. Chas