Dear Parish Family,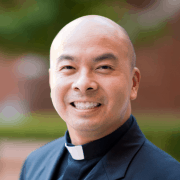 Have you signed up to get your free 8X10 portrait and parish/school directory?  We've had a great response in this first week of signups for our Church and School Directory.  Signups continue after Mass this weekend.  The first week of photo sessions are almost all filled up!  There are still many spots available from February 2 to 20, but at the rate we're going, you will want to schedule a time soon.  Here's a review of the three ways you can sign up:
1. ONLINE by going to the "Lifetouch" link on our website at www.stjohnjackson.org.  
2. After Mass on the following weekends, paper sign-ups will be available at the St. John Community Room and St. Joseph Oratory Entrance.
3. Stop by the Parish Office during business hours where a staff person will help you.
If you're a people person, please consider serving a two-hour shift of two to be the host volunteer who helps with greeting and preparing the family or individual for their portrait session.
Anniversary of Roe v. Wade Decision
The birthday of famous women's rights activist, Alice Paul (Google's Doodle was dedicated to her on Jan. 11), was this past week.  The feminist and suffragist said that "abortion is ultimate exploitation of women."  And in this year that Blessed Mother Teresa will be canonized, we remember her words:  "America needs no words from me to see how your decision in Roe v. Wade has deformed a great nation. The so-called right to abortion has pitted mothers against their children and women against men."
All dioceses in the United States are observing a Day of Prayer for the Legal Protection of Unborn Children.  We will be praying a rosary after the 9:00 a.m. Mass this Friday.  There are also two events sponsored by Jackson Right-to-Life:  1) "Mourning 43 Years of Legalized Abortion" on Jan. 22 at Trinity Lutheran and 2) a Memorial Service at the Assembly on Jan. 23.  More details are found later in this bulletin.
Our School Practicing the Year of Mercy!
St. John School began the Year of Mercy with a bang, collecting more than 1100 items for our parish food pantry and over 900 new and gently used toys for St. Vincent de Paul's Priceless Gifts Toy Store!  
Finally, THANK YOU to those who made a Christmas Offering and responded to the Christmas Appeal, together totaling over $83,000!  History has suggested that we will need every bit of that cushion, as weekly collections tend to come under budget.  This is why I encouraged parishioners who don't yet tithe to increase their weekly offering by 1% of their weekly income this year.  Would YOU make that commitment to support our parish and the building up of God's kingdom here in Jackson this 2016?  
Yours in Christ,
Fr. Chas