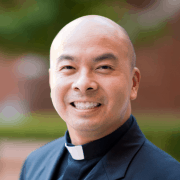 Dear Parish Family,
You were not meant to live just a humdrum life, wondering if this is all there is.  You were meant to know your God-given purpose and be invigorated in fulfilling it.  Did you know that?  God has gifted you in unique ways by which you manifest his power and providence to this world through spiritual gifts called charisms.
What are charisms?  By virtue of our baptism, God gives us special abilities that empower us to make a difference in people's lives.  God wants to act in this world and reach people.  He wants us to impart to the world what it needs most, that is, his goodness, his beauty, his truth, his love, and his wisdom, and he desires to do it in unique ways through YOU.
 
Charisms do not depend on your natural abilities or talents.  They do not depend on your education and training.  In fact, they have an effectiveness that surpasses what our natural human abilities can effect because the Holy Spirit is operative in them.  As the Catechism of the Catholic Church states, "Whether extraordinary or simple and humble, charisms are graces of the Holy Spirit…ordered to the good of men and to the needs of the world" (CCC #799).
I want to invite you to discover what YOUR charisms are at the Called and Gifted workshop we are hosting here this March 20 and 21 at the Ken Dillon Activity Center, located in our school.  It begins on Friday evening from 7pm to 9pm and then continues throughout the next day, Saturday morning and afternoon.  To register, use the registration form in this bulletin, call our office at 517-784-0553, or sign up online through our website, www.stjohnjackson.org.  Make Lent 2015 a special one.
In Need of a New Sound System
Someone on our Finance Council this past week brought up an issue about which we have been hearing complaints ever since Fr. Kurian and I arrived here.  Due to the inordinate amount of feedback about not adequately being able to hear what is going on at Mass and after some sound tests, we've discovered there are a number of problems that are causing inconsistencies.  Unfortunately, it will mean having to get a new sound system.
 
Sometimes it sounds fine; other times you can barely hear.  Even when things do function, there are a number of dead spots where the sound is compromised because we do have the proper speaker coverage.  We have made some temporary adjustments that will be taxing the properly functioning speakers.  We are crossing our fingers for now until we can get a couple of quotes.
 
As anyone familiar with sound systems know, doing this right will cost a pretty penny.  Thus, if anyone feels particularly moved by the Spirit to give beyond their tithing to this, it would be greatly appreciated, as it is something that affects the quality of our parish life every single Sunday!  
Yours in Christ,
Fr. Chas