A Message from our Pastor, Fr. Chas Canoy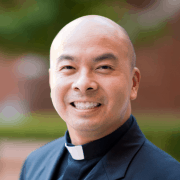 Merry Christmas!  On behalf of the whole parish family of St. John, I welcome you and wish you a blessed and merry celebration of the Nativity of Our Lord.  We are overjoyed that you have joined us for this special Mass.  Our church may be fuller and perhaps a bit noisier than usual, but it is a joyful noise because it means we as God's family are all gathered together around the table of the Lord, just as your family may crowd around the table for Christmas dinner.
Pope Francis praised God for the Christmas gift of himself to us in the baby Jesus:  "You are immense, and you made yourself small; you are rich, and you made yourself poor; you are all-powerful and you made yourself vulnerable."  My hope is that, at this Christmas celebration, you truly encounter God who reveals himself to us in the Christ child.  You will know if you do because God moves the open soul to desire more and more of himself and the peace and joy he brings to us, even amidst the craziness of life.  
Let the moment of grace that begins with this Christmas Mass continue through a relationship with Jesus Christ.  Maybe you would like to find out more about who Jesus is, what a relationship with him means to you, and how he can answer some of life's most pressing questions.  I encourage you to look into our upcoming Alpha, a multi-week experience of informal meals and fellowship beginning in February that provides an opportunity to discuss, ask questions and get answers in an open, inviting, and no-pressure environment.   Find out more by going to our website at www.stjohnjackson.org/alpha.
The special joy of Christmas we experience today is available to us all year long.
Have yourself a Merry Christmas and a Happy New Year!
Fr. Chas
Weekend Mass Times
Saturday: 4:15 and 5:45 p.m. at St. John Church
Sunday: 8:00 a.m. at St. John Church
Sunday: 9:30 a.m. at St. Joseph Oratory
Sunday: 10:00 a.m., Noon, and 5:00 p.m. at St. John Church
Confession Times
Saturday: 3 to 4pm at St. John Church
Before and after weekday Masses at St. Joseph Oratory
(and by appointment, call the parish office at 784-0553)