F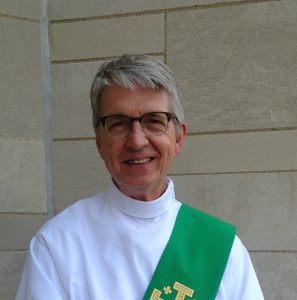 rom the desk of Deacon Dave Etters…
Advent – a time of hope and waiting. The people of Israel had hoped longingly for their Messiah.  And they waited…and waited, and they waited some more. I have a difficult time waiting in a grocery line, but the collective waiting of Israel spanned centuries!  Israel's expectant hope and period of waiting is wonderfully personified in the person of Simeon. Simeon, a righteous and devout Jew, was present in the temple when the infant Jesus was presented.  It was Simeon, you recall, who took Jesus into his arms and proclaimed the canticle, nunc dimittis (Latin for "now you dismiss").  This moving canticle has been ensconced in the night prayer of the Divine Office, which is prayed each day throughout the world.  
"Now, Master, you may let your servant go in peace, according to your word, for my eyes have seen your salvation, which you prepared in sight of all the peoples, light for revelation to the Gentiles, and glory for your people Israel."
Simeon was, as were many of the Jews, waiting longingly for the Messiah, the "consolation of Israel".  In the Gospel of Luke, we find Simeon in the temple at the very time Mary and Joseph brought in the child Jesus to perform the custom of the law, presenting  Him to God.  This custom, essentially an 'inauguration' into the faith, was observed 40 days after the birth of each Jewish child. And now each year in the Church calendar we celebrate this ancient custom in the Feast of the Presentation of the Lord, which occurs on February 2.  
In Simeon's brief appearance in Luke's infancy narrative, we are told, "It  had been revealed to him (Simeon) by the Holy Spirit that he should not see death before he had seen the Messiah of the Lord."  Having this knowledge, we may wonder, "How many times did Simeon go to the temple when infants were presented, before Jesus came?" "How would he recognize the One?" "Did he ever waver or question that he had heard correctly?"
It's reasonable to believe that Simeon frequently went to the Temple, perhaps daily…daily in joyous, fervent expectation that one day…maybe this day would be THE day.  The day he would take into his arms and hold the anointed One, the long awaited "God is with us" One.      
Simeon has long been one of my favorite figures in the great story of salvation history.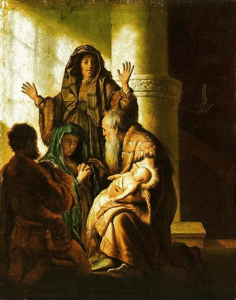 Although he has a minor role compared to the giants Abraham, Moses, the Blessed Virgin Mary, the Apostles and others, he yet remains an important, pivotal person.  In a figurative manner he embodies in his person everything of the Old Covenant people: patriarchs, prophets, pilgrimages, wars, persecutions, the tabernacle and temple, captivities, the idolatry and sins – yes, but also the undying hope and faith of a people that were called to be a light to the nations and bring forth the Messiah, Savior of the world.  It's as though all of Israel has been condensed into this moment in Simeon when he cradles Jesus in his arms. And Jesus, in the arms of Simeon, assumes all of the Old to Himself and will Himself become its fulfillment. Simeon, the hinge between the Old and the New, holds in his arms the light and the glory of God.  A new dawn has arrived. Simeon, satisfied, is at peace and humbly asks to be "dismissed."  
We hope with Simeon, we wait with him and pray, "Come Lord Jesus, Come!"
Advent Peace,
Deacon Dave