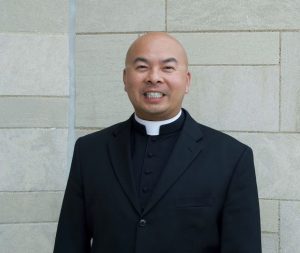 From our Pastor, Fr. Chas Canoy…
MERRY CHRISTMAS!
Dear Parishioners & Visitors,
The Prince of Peace is born!  If you are like many in our world today, you often find yourself going 100 mph through life, accompanied by the drama going on in our workplace and in our extended family; moreover, our country and our world are in such irreconcilable conflict.  There is a fundamental lack of peace, yet God knows that is precisely what we need.  
Peace in our world begins with peace in our own country.  Peace in our country begins with peace in our community. Peace in our community begins with peace in our family.  Peace in our family begins with peace in ourselves. Bringing peace to the war within our hearts is what Jesus came to do.  In a world where distractions and temptations abound and bring us away from the life God wants us to live, we become conflicted in our hearts.  What we celebrate at Christmas is that God has come to reveal himself in visible form in Jesus, so that we can fix our eyes back on the one who can bring healing and wholeness to our fractured hearts.
So I encourage you to begin this new decade with the surrender of your life to the Prince of Peace, to him who surrendered his life for us!  Let's keep our focus and our inner gaze perpetually on Jesus.  In doing so, we will then see all other things clearly for what they are.  The things of this world are to be at our service, and yet too often they are our masters.  We were meant to worship only one Master, the God who loves us. When God is not present in our lives, we transfer and channel that inner urge to worship onto things and people not worthy of our worship.  
In this year of 2020, begin anew and direct that worship to the only One worthy of it, and discover that you can have a profound relationship with the Prince of Peace through the sacramental life of the Church.  Simplify your life in this new decade, and truly observe Sunday as the day for the Lord and a day to rejuvenate your body and soul.  
Don't Forget Your Christmas Gift – Introduction to the Theology of the Body! 
I am very thankful for your Christmas gifts to me, and so I hope you enjoy my gift to you (one per household, please)!  I have chosen another book title this year, Theology of the Body for Beginners.  When I was in my twenties, a big turning point in my faith was being exposed to the Theology of the Body, St. John Paul the Great's writings on the human person and how our sexuality relates to the meaning of life and our relationship with God.  I found it refreshing and revolutionary for a young man who had thought the moralistic approach of the Church on such issues was outdated.  Time has proven the Theology of the Body's effectiveness as countless Catholics today, most of them as young adults, are finding their faith rekindled through it!  Also check out Christopher West's video summary of the Theology of the Body online.
This book for beginners is simply an introduction that scratches the surface.  I hope that you carve out the time in this new year for regular spiritual reading.  It is a great way to enter into prayer and your heart-to-heart conversation with our Lord.  And I hope you begin with this book, Theology of the Body for Beginners!
A very Merry Christmas to you and yours!  I look forward to us all growing together in closer relationship with the Lord in this new year of 2020!
Yours in the newborn Christ-child,