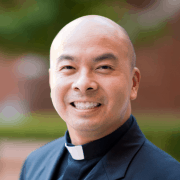 Dear Parish Family,
Our Pope Francis Initiative is going full speed ahead. We are hoping that our beloved pope will inspire new people or those who have fallen away from the Catholic faith of their childhood to come home, their spiritual home of St. John Parish!  As you may have heard in my homily last week, such folks need to be welcomed if we expect them to return.
That's where you come in!  We want each new person who expresses interest in our St. John Parish to simply be welcomed and recognized by a parishioner who serves as a representative of the parish to that person.  That's why we are wanting at least one hundred parishioners to step forward and be that welcoming presence to that stranger.
"I Was a Stranger, and You Welcomed Me!" – Jesus
We currently have 40 parishioners who have joined the One Hundred!  THANK YOU!  We are 40% of the way there!  We need more to come forward, however, because we would like each parishioner to be able to focus on just one newcomer, their "Jesus" that they welcome into our spiritual home of St. John.
How do we welcome newcomers as their personal parish contact?  There are several ways to make a stranger in our church feel welcome.  We will have their phone number and email because they will have expressed interest in St. John through the direct mail campaign, through events like the "Blessing of Animals," or through the newcomer card that we will have in our pews.  Among those various ways to make newcomers feel welcome:
A simple phone call recognizing that we are happy that they have expressed interest and that you are there as their personal parish contact should they have any questions or concerns
An invitation to come to the faith formation events we have like the Alpha Course and RCIA
An invitation to meet them at Mass, or better yet, to pick them up and have a bite to eat with them whether dining out or at home
A chat over coffee to get to know them and their interests
An introduction to other people in the parish with whom you feel they would really connect, whether it is because of their occupation, their hobbies, or other things you discover about them
By doing such things, Pope Francis says that you "can make present the fragrance of Christ's closeness and his personal gaze."  He then says "the Church will have to initiate everyone into this "art of accompaniment" (EG 169).  Everyone includes YOU!
We have so much history here as the mother church of Jackson.  Times have changed, however, and we no longer live in a society that promotes Christian values.  It often does the very opposite, as many elements of our pop culture are simply inimical to our Catholic faith.  The breakdown of marriage and the family also drastically affects the numbers who come to Mass because of family tradition.  Thus, we cannot rely on a cultural Catholicism to fill our pews. Actively welcoming strangers as Jesus tells us, making that personal connection with them, is how we grow our beloved parish, and I pray that you are among those who will.  Be one of the One Hundred!
Yours in Christ,
Fr. Chas
p.s. – This is a very concrete way to practice Pope Francis' "spiritual accompaniment" that I explained in last Sunday's homily:  http://www.stjohnjackson.org/2015/homily-by-fr-chas-9-13-2015/.