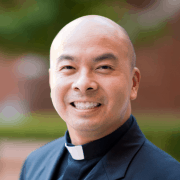 On this Easter day, we here in Jackson proclaim with the Church all throughout the world that sin and hatred, death and division, violence and vitriol do NOT have the final say! The Easter message is that, in the resurrection of Jesus Christ, God has conquered all of these through the eternally greater power of his love!
An Invitation to Our Guests
There is no question that in the end good will triumph over evil, love over hatred, unity over division. The real question is will we follow our Lord and Savior to the cross, so that we may share in his resurrection to new life that we celebrate today. There is a dying of our selfish ego that is required, so that Christ can truly live in us. Without that death, we will never know the abundant life he offers. As Jesus said, "For whoever would save his life will lose it, but whoever loses his life for my sake will find it" (Mt 16:25). This dying to self, however, is a continual everyday choice that requires the grace and power that God offers us in the sacramental life of the Church.
If your presence here today is more of a cultural celebration than it is a regular occurrence each Sunday, I want to invite you "lose your life" for Christ, so that you may truly find it! Give Jesus that chance to transform your life! The Good Shepherd has been searching for YOU! Rediscover your Catholic faith! Pope Francis has been inviting the entire world to do the same, and I as pastor of St. John invite you to respond by reconnecting to your local parish. Call or email me or Todd Gale, our Director of Faith Formation, to learn more!
Lingap Center Guest Next Sunday
After all our Masses next Sunday, we will have a guest speaker, Aileen Bantolinao, who is an alumna of the well-known Lingap Center, founded by local John Drake. She just completed an internship in Baltimore, and before she returns to the Philippines, we get to hear her inspiring story!
Divine Mercy Sunday is on April 12!
The world needs God's mercy! There is so much chaos and craziness going on in our world as a result of turning away from our God "who is Love and Mercy itself" (St. Faustina). So much of our world has dealt with shame and guilt in unhealthy ways, that is, by just altogether giving up trying to live a good and joy-filled life in accord with God's plan. What our world really needs, however, is the experience of God's liberating mercy, which gives us a new beginning!
Come to St. Joseph Oratory this next Sunday, April 12, and pray that the world may know this mercy! We will have a Divine Mercy presentation and the opportunity for the Sacrament of Reconciliation, thanks to our Jackson area priests, beginning at 2:00 p.m. At the Hour of Mercy, 3:00 p.m., we will pray the Divine Mercy Chaplet, invoking God's mercy upon our world. Hope to see you there!
Easter blessings,