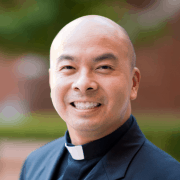 Dear Parish Family,
A couple of years ago, we made an initial attempt to have greeters (or hospitality ministers) to warmly greet people as they come into church.  This has given us a few regular greeters, and maybe you've enjoyed the salutations of fellow parishioners like Dan Deverell, Nick Januszewski, Bob & Colleen Irvin, Dan Lindsay, and the few children that greet and open doors at St. Joseph Oratory.  They help make our parish a more hospitable place to worship.  
But we would like more greeters!  Thus, our Director of Parish Operations, Andy Bihl, is coordinating the effort to recruit and train greeters for all our Masses.  It's easy as pie, so please contact him if you enjoy welcoming people in the Spirit of Christ.
Also, please remember, if you're a man, to attend the diocesan men's conference, "The Man Event" on Saturday, Feb. 25, which this year is held right here in our area, complete with a pig roast!  If you're a woman, please invite the men in your life (dad, husband, sons, cousins, nephews, godsons, etc.) to attend.  It has often served as a jump-start or significant moment in the faith life of many men in our region.
Yours in Christ,
Fr. Chas
______________________________________________________________________
Greetings, fellow parishioners!  
As the Director of Parish Operations, you may have seen me at Mass towards the back greeting people.  Fr. Canoy and I share the same hair stylist, Mr. Gillette.  Maybe it's because of my 18 years in Georgia, but I'm a big believer in hospitality.  So I share the following, much of which is borrowed from the writings of Fr. Michael White and Tom Corcoran of the Church of the Nativity in Timonium, MD:
The Catholic Church in the United States, in order to grow, must create a liturgical experience that resonates with the people of today.  That includes many areas.  Music.  Great homilies.  Creating a warm and welcoming environment.  Establishing programs for young people.  Basically saying, "We're waiting for you.  We're glad you're here."[1]
We want an environment in our parish where parishioners and visitors feel at home.  One step we would like to take is to establish a routine and committed effort at greeting people when they arrive.  What that means is to have a team of people who are comfortable talking to friends and strangers alike, and who are equipped to answer any questions that people might have regarding life in our parish.
Is that you?  Do you enjoy interacting with people?  Would you get joy from being part of a person's decision to continue to come to our church to develop a relationship with God?
If you feel that you might be called, then please call me at the church office at (517) 784-0553 or email me at andy@stjohnjackson.org.
At His service and yours,
Andy Bihl
[1] Rebuilt, The Story of a Catholic Parish, White and Corcoran, p.106.