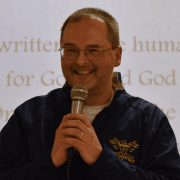 In the 2nd chapter of St. Paul's letter to Corinth, our group of 30 or so found ourselves in an awesome conversation on the New Covenant, the purpose of the Old, and Paul's authority.
We follow St. Paul as he begins a five chapter tangent on his credentials! In this side-conversation, St. Paul will reveal some of the most beautiful and deep theology on suffering and our union with Christ.
Keep up with the study -> Click here and see all the mp3s on one page!