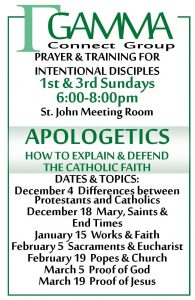 For the next GAMMA GROUP series, we will go through several of the most common questions, objections, or discussions that come up when we talk about Catholicism. Apologetics is all about explaining, defending, and given reasons for what we believe. The purpose is not to win arguments, but to give solid reasons for our hope in Jesus and the Catholic Church.
Our first topic in the series will be Differences Between Protestants and Catholics. Coming up soon we will talk about the balance between Faith and Works; we will explain the dogmas of Mary, the Blessed Mother; and spend a session on the Popes and the Church.
Gamma Group is a teaching and training session for those who want to go deeper. We are especially targeting our parish leaders, those who attended the Assembly, and those who are parish Representatives who want some "tools in their tool box" for bringing home the lost sheep. All are welcomed! We meet the 1st and 3rd Sunday of the month, 6:00-8:00 in the smaller meeting room.