Religious Education Newsletter –October 23, 2016
FROM MR. GALE
This week we will pray a shortened Rosary in the gathering room, just the beginning prayers and one decade. Some of the older classes may pray a full Rosary when they go to their rooms. The K-6th graders have been terrific in the assembly time: participatory, engaged and listening. Great job everyone! Ask them to sing to you some of the songs we have learned this year so far: I Wanna' Be A Sheep, Jesus Is Stronger Than Superman, The Banana Song, O Come And Follow Me and Trading My Sorrows (Yes Lord!). More silly songs to come.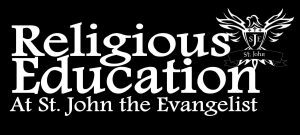 Please remember, we really would like the younger students (Pre-School through 4th Grade) to sign out at the end of class. The older students can find their way to parents. If someone has mobility issues picking up the younger students, and it's too difficult to maneuver down the long hallway, please make arrangements with the catechists or myself (a written note, phone call, e-mail, etc.). We are not trying to make anything difficult, but safe! If there are custody issues and someone is prohibited from taking your child WE  MUST KNOW!
The adult group that meets while the students gather has grown from last year! Please know that parents and high schoolers can stay with us as we tackle deeper topics in the teacher lounge. This semester we are looking at the Biblical Walk Thru the Mass, a terrific DVD program with lots of discussion. Mr. Lucas Sponsler is leading the class, with Candy Copeland assisting. What a great group!
One last thing: the 1st grade and 3rd to 6th grade curriculum has a terrific website that connects parents with our ALIVE IN CHRIST curriculum. Check out http://aliveinchrist.osv.com/family for all sorts of interactive activities, resources, apps, and more. The Pre-School and Kindergarten group can check out http://www.allelu.com/activities-resources/index.html. Our 2nd Graders are using a brand new curriculum from St. Mary's Press. There are some great resources at: https://www.smp.org/resourcecenter/.
UP-COMING DATES AND EVENTS
SNACK SCHEDULE.
2016     
10/23/2016       E-H
10/30/2013       I-M
11/6/2016         N-R
11/13/2016       S-Z
MIDDLE AND HIGH SCHOOL YOUTH GROUP meets this Sunday in the Community Room after the 5:00 Mass, 6:15-7:30. Students 6th grade through high school are welcomed. For details, check out the Sunday bulletin or e-mail clare@stjohnjackson.org.
REMEMBER:
From our TEN COMMANDMENTS of RELIGIOUS EDUCATION:
THOU SHALL ATTEND. Students are expected to attend all scheduled classes.  If a student is going to be absent, we ask parents to notify the office or the catechist/teacher if you know in advance.  Illness, emergencies and last minute schedule conflicts are unavoidable and we truly understand! Consistent attendance is important to our program, just as it is in any subject area.  If a student misses two classes and we haven't heard from a parent, we will give you a courtesy call to check in.
THOU SHALL BE ON TIME. Please be on time! Late arrivals and early dismissals disrupt class for everyone so we appreciate parent efforts to avoid this whenever possible.
THOU SHALL ATTEND WEEKLY MASS! We are Catholic, we attend weekly Eucharist! It is expected, it is a PRECEPT of the Church, "You shall attend Mass on Sundays and on Holy Days of Obligation and remain free from work or activity that would impede the sanctification of such days." It is a COMMANDMENT. It is a great OPPORTUNITY and HONOR! Also we'd love to see you at special events and parish functions, especially those which target your child's age level.