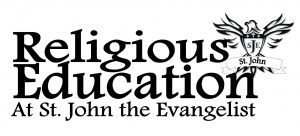 Religious Education Newsletter – Week of January 24, 2016
From Mr. Gale
I hope to get REPORT CARDS out in this next week to all of our families; it is not only an opportunity to make a connection with you, the parents, but it's also an invitation for you to give us some feedback on your Religious Education program. We started this year with a pretty ambitious set of objectives, most of which we are tackling fairly well! Some of our goals for the year include:
Switching curriculum to Our Sunday Visitor publishing
Learning objectives that will be measured by pre and post tests
Syllabus and topic schedule for each grade
K-6 will meet in a gathered assembly each week prior to class time
Catechists and aids will be HIGHLY encouraged to continue with training and workshops
ADULT class for parents each week, following the large assembly time
Teacher observations and evaluations
"Report cards" with feedback opportunity
"Mini-retreats" during Advent, Lent and on special weekends
STRONG emphasis placed on Mass attendance.
A weekly newsletter will be e-mailed to all parents.
The 1st grade to 6th grade curriculum has a terrific website that connects parents with our ALIVE IN CHRIST curriculum. Check out http://aliveinchrist.osv.com/family for all sorts of interactive activities, resources, apps, and more. The Pre-School and Kindergarten group can check out http://www.allelu.com/activities-resources/index.html.
Up-Coming Dates and Events
SNACK SCHEDULE   2016     1/24 I-M      1/31 N-R      2/7 S-Z
2/21  WE provide          2/28  WE provide     3/6   WE provide     3/13   WE provide
3/20  WE provide     3/22 – WE provide    4/10  A-D      4/17  E-H     4/24  I-M
5/1  N-R        5/8  S-Z       5/15 – WE provide       5/22 – WE provide
YOUTH GROUP SUNDAY NIGHTS
Middle School and High School Youth Group meets Sunday nights in the Parish Center after the 5:00 Mass, 6:00-7:30pm with our Youth Minister Hannah Stevens. Evenings of praise music, prayer, friendships, sharing, goofy games, food, and always Jesus!!!
RCIA / CATHOLICISM 101 WEDNESDAYS
Come join us for great topics each week 7:00-8:30 in the St. John Community Room.
ALPHA, SOUP SUPPER and STATIONS DURING LENT
We are planning to launch Alpha 2 during six Fridays of Lent (ending before Good Friday). Alpha is opened to ALL parishioners, cradle Catholics as well as newcomers to the Faith; but it is especially geared for those who have never encountered the Church or Jesus. Alpha is a safe place to ask questions, explore, wrestle with some of life's questions, and meet new friends. It is especially strong when we have a mix of people: some non-Catholic and others well-formed and living authentic Catholicism.
Fridays of Lent beginning with February 12, we will offer a light soup 'n' salad dinner starting at 5:00. The dinner will be served until 6:15; with Alpha beginning at 6:30 each week. The dinner is provided as a free will offering (no set charge!)! We are looking for a few soup cooks and a salad crew to help the Boy Scouts and Knights. We could also use a few more HOSTS and HELPERS for Alpha. Please contact me if interested. Come and see what all the excitement is about!
What we are memorizing:
The Church is ONE, HOLY, CATHOLIC and APOSTOLIC.
Who is the Church? WE ARE! Where is the Church? RIGHT HERE! Who is the heart of the Church? JESUS!
Prayer to the Holy Spirit
Come Holy Spirit,
fill the hearts of your faithful,
and kindle in them the fire of your love.
Send forth Your Spirit and they shall be created,
And you shall renew the face of the earth.
O God, who by the light of the Holy Spirit
instructed the hearts of the faithful,
Grant, that by that same Spirit
we may be truly wise
and ever rejoice in His consolation.
We ask this through Christ our Lord. Amen
Remember:
THOU SHALL SINCERELY ATTEMPT TO BE DISCIPLES OF JESUS. A disciple is a student who follows the Master… we invite you to follow the Master Jesus sincerely and enthusiastically.
THOU SHALL ATTEND WEEKLY MASS! We are Catholic, we attend weekly Eucharist! It is expected, it is a PRECEPT of the Church, "You shall attend Mass on Sundays and on Holy Days of Obligation and remain free from work or activity that would impede the sanctification of such days." It is a COMMANDMENT. It is a great OPPORTUNITY and HONOR! Also we'd love to see you at special events and parish functions, especially those which target your child's age level.