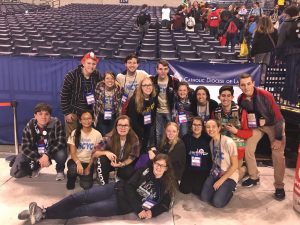 Dear Parish Family,
As part of our parish family, I think it's especially important to update my "family members" on what is happening in the lives of the teens of the parish. Nothing gives me more joy than to walk in faith with the youth of the parish, and I want to spread that around!
Our Middle School Youth Group, Edge, is brand new to the parish within this last year. It meets Sunday mornings, in the St. John School Gym, from 10:00-11:30. Every week we play games, have small group discussions, and hear from one of our Edge core team members on how to authentically live out their faith in their own lives. Some of my favorite moments of this past school year have been when I get to sit down and talk to our Middle Schoolers. Their sarcasm keeps me on my toes, and their honest questions inspire me to appreciate the beauty of our faith all the more.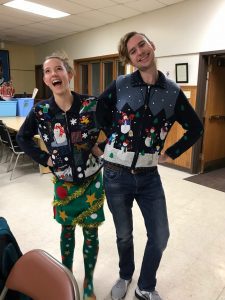 In our High School Youth Group, Life Night, which meets on Sunday nights from 6:00-8:00 in the Parish Center, we are diving into the theme of Vocations. I know during this stage of my life, I was filled with questions about who God wanted me to be. We'll be hearing from couples who are living their vocation of marriage, learning from our very own Fr. Brian, and also having special guests Fr. John Linden and Dawn Hausman from the diocese to come talk to our teens about how to pursue the Lord with their lives. Alongside these powerful stories, we also have small groups, games and activities, and (of course) free food, to help us engage in the topic even more. Stories have a powerful way of moving and transforming hearts. Even our Lord knew this as He taught the crowds with parables! I'm hoping these stories on vocations will also inspire and empower our youth to live out their primary vocation, which is to be a saint.
With the many youth events and retreats coming up, I am reminded now more than ever that, just as it takes a village to raise a child, it really does take a parish to invest in the youth ministry of the church. Here are some ways that I would love to have you invest:
Pray

Please pray for our youth! In our world today, our youth face difficulties from a society that openly mocks their beliefs. Please cover our youth in prayer, that they may feel the love of Jesus and keep looking to the Way, the Truth, and the Life.

Invite

If you know a youth of our parish who may have never checked out our group, now is a great time to get involved! Whether they are from Lumen Christi, a public school, or homeschooled, they belong.

Donate

 With our upcoming retreats and our Summer Youth Missions Trip, Alive in You, drawing closer, donations from our parishioners help make these possible for our youth! Thank you to all who have given pop cans or participated in our other fundraisers. If you are able, please consider giving to our youth group missions fund so we can open these opportunities to even more teens of our parish.

Get involved

If you have felt called to serving the youth of our parish but are not sure how you want to serve, please contact me! There are many ways of serving our youth from providing snacks, giving a witness talk, becoming a small group leader, etc. The more parishioners who feel called, the greater capacity to serve more of the youth of the parish.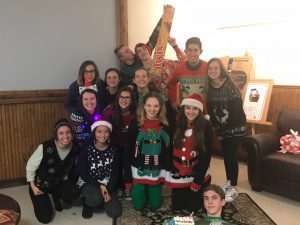 I am so grateful that the Lord called me to Jackson a year and a half ago and have fallen in love with the St. John family. Thank you to all who have supported me and our youth this far. I look forward to continuing that journey together.

In Christ,
Clare Kolenda
Coordinator of Youth Faith Formation