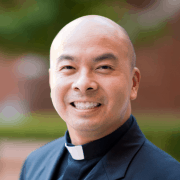 Dear Parish Family,
Ah, a new year brings the hopes of new beginnings! Many make new year's resolutions, including some of us in the parish office. We decided to have a little competitive fun with a weight-loss challenge! The majority of new year's resolutions seem to revolve around our physical health, but how about our spiritual health?
The very foundation of one's spiritual life and the key to one's spiritual health is daily prayer. We have a personal God who wants to come into union with each and every one of us. Some folks are sometimes surprised by that reality. "You mean the God of the universe wants to have an intimate relationship with me?" YES! We are made for union with God. That is our very purpose of existence. As the old Baltimore Catechism reminds us, you and I were made to know God, to love him, and to serve him in this world so as to be happy with him forever in the next.
You can't love someone you don't know, and so I challenge you to make a spiritual new year's resolution that will help you to know God and fall in love with him. If you are looking for ideas, a group called "Domestic Church" has its members commit to four different types of daily prayer. Perhaps choose one or two of these to observe throughout 2017 to cultivate the habit of prayer in your everyday life:

Daily Scripture – Expose yourself to God's truth and wisdom in Sacred Scripture. I would recommend beginning with the Gospels that recount the life and teachings of our Lord Jesus. Perhaps you simply read the Gospel passage of the day that is read at daily Mass, which you can find on www.usccb.org. You can also subscribe to Magnificat (www.magnificat.com), a handy compact monthly missalette. When you meditate on Scripture, it is helpful to use the principles of lectio divina.

Daily Personal Prayer – Even if it's just for a few minutes, pray daily. Any relationship dies without regular communication. Have a regular quiet place that is free of distraction. Perhaps you use your Daily Scripture time as a starting point for your conversation with God. Whatever the case, be sure you set aside time to simply listen. God does not normally communicate to us audibly, but speaks in the silence of our hearts through our conscience.

Daily Prayer with Spouse – Perhaps it's just as you get up or right before you go to bed. Some friends of mine who went to grad school together at U of M married one another, and they said praying together has been the biggest help in their relationship. He said: "It has helped us be less self-focused and allow us to pray for each other more directly."

Daily Family Prayer – Perhaps it's in the car as you drop them off to school, right after meal time, or before you tuck them in at night. A father of four young kids recently told me it's helped his kids become less self-centered and selfish, and hearing other family members pray teaches them.
As it is often the case with new things, prayer with others may seem awkward at first, but it is essential to the spiritual life. It brings us from just learning about God to having an actual relationship with him. Take up the spiritual challenge and make that new year's resolution today!
Yours in Christ,
Fr. Chas