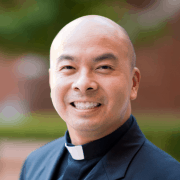 Dear Parishioners & Visitors,
With JOY we gather together! "The people dwelling in darkness have seen a great light!" (Mt 4:16). As we close the year, one that was marked with unpredictability and considerable conflict and division both at home and abroad, we as Christians nevertheless rejoice! We rejoice because, even amidst our difficult times, we also count many blessings! We know that, just as God has the last say at the end of the year with the hopeful celebration of the birth of the Savior, so will God have the last say in the whole course of history. Love conquers in the end! That Great Light prevails over the darkness!
We need this joyful hope that Jesus gives not just at the end of the year, but year 'round to be our strength amidst our struggles. So for those who we do not often see, we at St. John invite you with open arms to come and join us throughout the year. Give your soul that weekly opportunity to sit back and place all of life's worries into perspective and entrust them into God's hands. Bringing families together before God to receive his power in the sacraments instills in us the faith, hope and love that we need for everyday life.
Catholicism 101
During today's celebration, perhaps you sensed God calling you to a deeper relationship with him. But maybe you feel a little hesitant because you haven't been regularly involved for years or maybe you never received confirmation. Not to worry! Each Wednesday evening, our Director of Faith Formation, Todd Gale, gets Catholics and non-Catholics alike together for Catholicism 101, which is a time of exploration of the basics of the Catholic faith. Our relationship with Jesus and his Church is not something to be read about, but lived, and we welcome you to that abundant life.
Alpha for School Parents!
Do you sometimes feel your kids are closer to God than you? As a special outreach to school parents, whether their children go to Catholic or public school, we are offering our very popular Alpha Course in the New Year. Alpha explores the meaning of life and is our introduction to the person of Jesus Christ. Maybe you culturally celebrate Christmas, but you do not feel like you have a personal relationship with Jesus (and maybe did not even know that was possible). If so, Alpha is for you! We will offer two different tracks, both located at St. John School:
Specifically geared for parents who have time immediately after dropping off their kids at school, we will offer the first five Alpha sessions: 8:30 a.m. on the following seven Thursday mornings: January 12, 19, 26, February 2, 9, 16 and 23
10:00 a.m. Sunday mornings starting January 22 – All are welcome, but these sessions are specifically geared to those parents whose children are concurrently going to religious education classes at the same time.
Formed.org
Finally, our busy schedules can sometimes make continual adult faith formation difficult. Our Formed.org parish subscription, free for all parishioners, allows you to grow in the knowledge of your faith whenever it is most convenient for you. It gives you access to engaging presentations that have high production quality, as well as many faith-based movies and audio talks to download for your work commutes (Good Shepherd Catholic Radio 93.3 FM is also good for those)! Simply go to Formed.org, and enter our special parish access code is 0766a8 at the login page.
Don't forget your Christmas present!
Fr. Brian and I are very grateful for your Christmas gifts to us! I hope you enjoy my gift to you. Please pick up one book per household on your way out. The choices are:
The Lamb's Supper by Scott Hahn – perfect for those who want to receive more from celebrating Holy Mass!
Mother Teresa of Calcutta – receive the simple wisdom of this spiritual giant who so loved the poor!
Resisting Happiness by Matthew Kelly – great for newcomers to the faith!
May it help you get 2017 started off on the right foot! A very Merry Christmas to you and yours!
Yours in Christ,
Fr. Chas