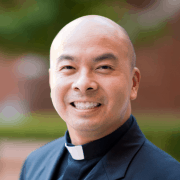 Dear Parish Family,
In today's first reading, the Lord says, "I come to gather nations of every language; they shall come and see my glory."  What a fitting verse to begin sharing with you about last month's experience of serving 13 young people as a spiritual guide at World Youth Day in Krakow, Poland.  World Youth Day (more fittingly described as "World Youth Days" since it is an entire week of festivities) results in some of the world's largest gatherings in history, and this last one had 2 million young people from all over the world gather for the final Mass.  
World Youth Day began as an initiative by St. John Paul the Great, and the current pope invites all the young people of the world to gather every three years (sometimes two) in different parts of the world.  This year's location of Krakow, Poland (one of the original UNESCO World Heritage Sites) just drips with history and was a beautiful backdrop for much of the week.  People's eyes just pop wide open when they first see one of the largest medieval squares in all of Europe.
World Youth Days are grueling for sure because you do literally miles of walking each day, and there is just so much going on from early morning to late at night for an entire week.  They are worth the exhaustion, however, because of the life-changing experiences so many youth have.  This year's was no exception.  "I feel like a new person.  I have never felt so close to Christ in my life.  It's this event that I will reflect back on in any hardships I face," said Haley, who just graduated from MSU and will begin teaching this year.  "God has touched my heart this whole trip," she continued.  "Seeing other's faith and love for God made me realize that I can have the same kind of relationship."  
Another pilgrim from our trip, Lizzy, said, "This whole event has made me closer to God than what I would have expected.  To see millions of young people who are devoted to the faith was awe-inspiring."  This college senior shared a particular experience, "During Wednesday's adoration/concert, I had a once-in-a-lifetime experience.  Everyone else seemed to disappear, and I felt like I was completely alone with Jesus.  I started to cry because I knew that Jesus was real."
I have pages of sharing from our pilgrims, but I'll just share one more.  Drew, who was recently married and came with his wife, said, "The cultural experience is like none other.  The only thing that comes to mind is if you go the Olympics and somehow stay in the Olympic Village!  Wherever you are on your journey and relationship with Jesus, you will be able to grow, expand, and learn on this trip.  You will witness and feel the power of 2 million young adults from around the world all practicing our Catholic faith."
World Youth Day culminated with the huge Saturday vigil and closing Sunday Mass, where everyone hikes out 8 to 12 miles out to a huge field that can actually fit a couple of million people.  There, on a field now called Campus Misericordiae, we had a vigil celebration with the Vicar of Christ, Pope Francis, spent the night out in that field, and celebrated the final Mass the following morning.  
So the reason why I take young people time after time to World Youth Day is because it's often a time when they realize that this Catholic faith with which they have grown up is not just something their family does on Sunday, but is the Church that is universal, meaning it's for everyone, from every part of the world, from all kinds of different cultures. The whole experience often opens our youth up to truly encountering the person of Jesus and the priceless gift of his transformative love and healing mercy.
Yours in Christ,
Fr. Chas