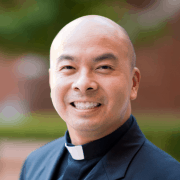 Dear Parish Family,
With Hannah's recent departure we didn't want to lose the momentum of having our youth program. Thus we have hired an Interim Coordinator of Youth Formation. I've asked her to introduce herself below.
Fr. Chas


Hello Parishioners of Saint John!
It is such an honor to be able to join the ministry team at the parish and to feel so welcomed and accepted so shortly after arriving here. I thank you all for making me feel at home.
I was born and raised in the Catholic faith and I have a deep love for Catholicism. The rich beauty, tradition, and of course the grace that is found in the sacraments, have helped my faith flourish, even in my most darkest times of my life. Even as a kid, I was passionate about sharing my faith with others and desired for them to experience the joy that can be found in the sacraments, especially the Eucharist.
I just recently graduated from Albion College, and while I went there to pursue a degree in Communications, God had other ideas of where he was calling me. Once I graduated, I felt the Lord calling me into ministry and so I joined campus missionary staff with InterVarsity Christian Fellowship. I now work with InterVarsity part-time back at Albion's campus and I have loved every minute of it. Working with students and helping them discover how to deepen their relationship with Christ is one of my favorite things to do.
This passion is what led me into conversation with the rest of the Saint John's team about partnering with them and helping lead youth ministry at the parish. I'm so excited to be Interim Coordinator for Youth Formation in these next couple of months. This is an opportunity I don't take lightly, but one that I want to fully embrace. My desire is to empower youth to be able to fulfill the command that Jesus gives us in the Great Commission (Matt 28:19).
As I start this journey, I would love any prayers, advice, or words of wisdom that you may have for me. I would love for all of us to be teammates as we pray, teach, and build up our youth because in this it grows our faith community as a whole.
I look forward to meeting each one of you in the next couple of months!
Blessings,
Clare Kolenda