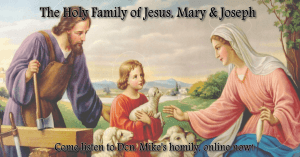 Today we celebrate The Holy Family of Jesus, Mary, and Joseph; also a local Solemnity of our parish's patron saint, St. John the Evangelist. We heard the readings from 1 Samuel 1:20-28 and 1 John 3:1-2,21-24. The Gospel proclaimed was from Luke 2:41-52.

Deacon Mike gave the homily today and compares and contrasts the Holy Family of Jesus, Mary and Joseph with our families today.

To easily download this homily in MP3 format, be sure to check our online homilies page!