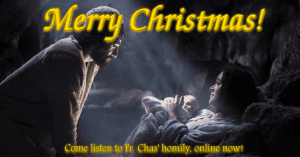 Merry Christmas!
Today we celebrate The Nativity Of Our Lord. At the Mass during Christmas Day, we heard the readings from Isaiah 52:7-10 and Hebrew 1:1-6. The Gospel proclaimed was from John 1:1-8.
Father Chas began the Christmas Vigil masses with a short display of his Lightsaber skills, and quickly recounts it here while also giving us the adult version of his homily at Christmas Day Mass.
To easily download this homily in MP3 format, be sure to check our online homilies page!