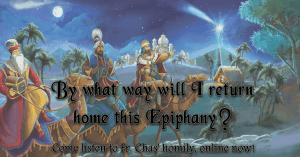 Today we celebrate The Epiphany of the Lord. We heard the readings from Isaiah 60:1-6 and Ephesians 3:2-3,5-6. The Gospel proclaimed was from Matthew 2:1-12.

Father Chas gave a moving homily today and quoted several excerpts of Pope Francis' Christmas message to the world.

To easily download this homily in MP3 format, be sure to check our online homilies page!