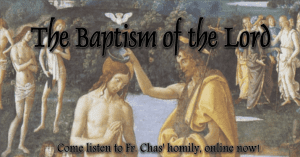 Today we celebrate The Baptism of the Lord. We heard the readings from Isaiah 42:1-4,6-7 and Acts 10:34-38. The Gospel was proclaimed from Luke 3:15-16,21-22.

Father Chas reminds us of our role as Christians and of our title as Sons and Daughters of God.

To easily download this homily in MP3 format, be sure to check our online homilies page!