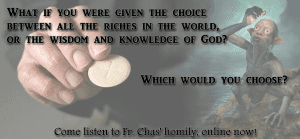 This weekend we celebrated the Twenty-eighth Sunday of Ordinary Time. We heard the readings from Wisdom 7:7-11 and Hebrew 4:12-13. The Gospel was Mark 10:17-30.
Father Chas asked us today what is most precious in our lives, is it something that gives us life, or something that takes our life away.

To easily download this homily in MP3 format, be sure to check our online homilies page!