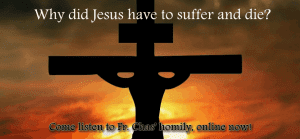 This weekend we celebrated the Twenty-ninth Sunday of Ordinary Time. We heard the readings from Isaiah 53:10-11 and Herbrews 4:14-16. The Gospel was Mark 10:35-45.
Father Chas discusses why Jesus went through all his suffering to pay your debt.
To easily download this homily in MP3 format, be sure to check our online homilies page!