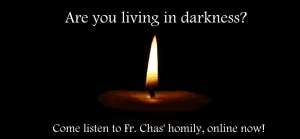 This weekend we celebrated the Thirtieth Sunday of Ordinary Time. We heard the readings from Jeremiah 31:7-9 and Hebrews 5:1-6. The Gospel was Mark 10:46-52.
This week's homily explains how the darkness can be deafening but by coming to Jesus we receive the light.  If you enjoy it, share it with others!
To easily download this homily in MP3 format, be sure to check our online homilies page!