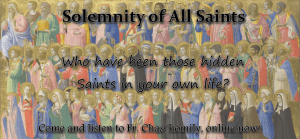 This weekend we celebrated the Solemnity of All Saints. We heard the readings from Revelations 7:2-4, 9-14 and 1 John 3:1-3. The Gospel was Mark 5:1-12.

This week Father Chas reminds us this is the feast of ALL saints, not just officially recognized Saints and helps us to find ways for us to join them!
To easily download this homily in MP3 format, be sure to check our online homilies page!