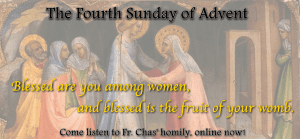 This weekend we celebrated The Fourth Sunday of Advent. We heard the readings from Micah 5:1-4 and Hebrews 10:5-10. The Gospel was Luke 1:39-45.

This week Father Chas asks if we can help share the good news with others this Christmas season.
To easily download this homily in MP3 format, be sure to check our online homilies page!