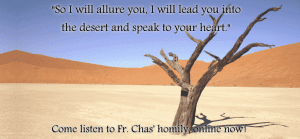 Father Chas delivered this homily on February 22, 2015. We heard readings from Genesis 9:8-15 and 1 Peter 3:18-22, and the Gospel reading from Mark 1:12-15.
Today Father Chas tells us how Jesus seeks to allure us, to lead us into the desert and speak to our hearts.
To easily download this homily in MP3 format, be sure to check our online homilies page!