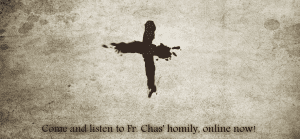 Father Chas delivered this homily on February 15, 2015. We heard readings from Leviticus 13:1-2,44-46 and 1 Corinthians 10:31-11:1, and the Gospel reading from Mark 1:40-45.
Today Father Chas discusses the how the leper seeks out Jesus, as a gesture of freewill. Father also details many of our upcoming Lenten activities.
To easily download this homily in MP3 format, be sure to check our online homilies page!