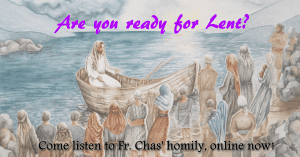 Today we celebrate the Fifth Sunday of Ordinary Time. We heard the readings from Isaiah 6:1-2,3-8 and 1 Corinthians 15:1-11. The Gospel was proclaimed from Luke 5:1-11.

Father reminds us that Jesus came to call sinners.. to turn us into Saints!

To easily download this homily in MP3 format, be sure to check our online homilies page!