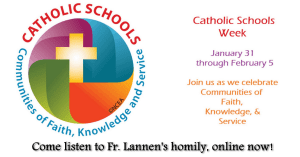 Today we celebrate the Fourth Sunday of Ordinary Time. We heard the readings from Jeremiah 1:4-5, 17-19 and 1 Corinthians 12:31 – 13:13. The Gospel was proclaimed from Luke 4:21-30.

Father Lannen O.S.F.S., chaplain at Lumen Christi High School, came and celebrated Mass with us at Noon today.


Our St. John Elementary school choir also sung amazingly during Mass, listen below for a recording of "Our God is an Awesome God".

To easily download this homily in MP3 format, be sure to check our online homilies page!