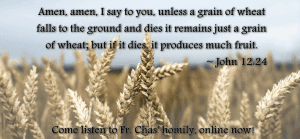 Father Chas delivered this homily on March 15, 2015. We heard readings from Jeremiah 31:31-34 and Hebrews 5:7-9, and the Gospel reading from John 12:20-33.
Nearing the end of Lent, today in the Gospel we hear of Jesus describing the the kind of death he would die.
To easily download this homily in MP3 format, be sure to check our online homilies page!