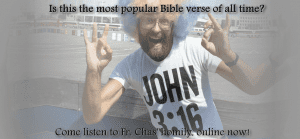 Father Chas delivered this homily on March 15, 2015. We heard readings from 2 Chronicles 36:14-16,19-23 and Ephesians 2:4-10, and the Gospel reading from John 3:14-21.
Today Father Chas teaches us about one of the most popular Bible verses ever: John 3:16.
To easily download this homily in MP3 format, be sure to check our online homilies page!