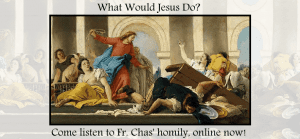 Father Chas delivered this homily on March 8, 2015. We heard readings from Exodus 20:1-17 and 1 Corinthians 1:22-25, and the Gospel reading from John 2:13-25.
Today Father Chas explains what Jesus said about tearing down and rebuilding the temple in three days.
To easily download this homily in MP3 format, be sure to check our online homilies page!