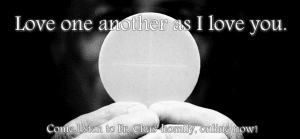 Father Chas delivered this homily on the Sixth Sunday of Easter – May 10, 2015.
Today we had readings from Acts 10:25-26,34-35,44-48, 1 John 4:7-10, and the Gospel from John 15:9-17.
Father Chas describes and compares the sacraments of Marriage and the Eucharist.
To easily download this homily in MP3 format, be sure to check our online homilies page!