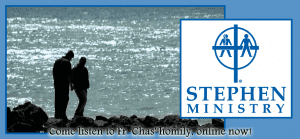 Father Chas delivered this homily on the Solemnity Of The Ascension Of The Lord – May 17, 2015.
Today we had readings from Acts 1:1-11, Ephesians 4:1-7, 11-13, and the Gospel from Mark 16:15-20.
Father Chas mentions two great things in his homily today – our upcoming healing service by Fr. Mathias Thellen on May 24, and also the Stephens Ministry. If you're interested in the Stephens Ministry, please contact our office.
To easily download this homily in MP3 format, be sure to check our online homilies page!