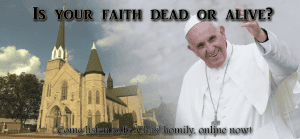 This weekend we celebrated the Twenty-fourth Sunday of Ordinary Time. We heard the readings from Isaiah 50:5-9 and James 2:14-18. The Gospel was Mark 8:27-35.
Father Chas speaks about Pope Francis's Evangelii Gaudium (The Joy of the Gospel) paragraphs 169-173, where Pope Francis answers the question: "What is SPIRITUAL ACCOMPANIMENT?"
To easily download this homily in MP3 format, be sure to check our online homilies page!