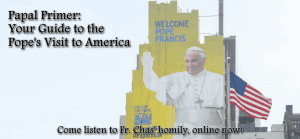 This weekend we celebrated the Twenty-fifth Sunday of Ordinary Time. We heard the readings from Wisdom 2:12,17-20 and James 3:16-4:3. The Gospel was Mark 9:30-37.
Father Chas continues to build the excitement for Pope Francis' visit to the United States, you can consider this homily your Papal Primer: A Guide to the Pope's Visit to America!
To easily download this homily in MP3 format, be sure to check our online homilies page!