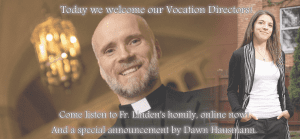 Father Linden delivered this homily on February 1, 2015. We heard readings from Deuteronomy 18:15-20 and 1 Corinthians 7:32-35, and the Gospel reading from Mark 1:21-28.
After the the homily, is a short address by Dawn Hausmann, Director of Consecrated Vocations.
Do you have questions regarding vocations and discernment?
Contact Fr. John Linden, director of Vocations and Seminarians, via e-mail to jlinden@dioceseoflansing.org or 517.342.2507 or contact Dawn Hausmann, director of Consecrated Vocations, at dhausmann@dioceseoflansing.org or 517.342.2506.
To easily download this homily in MP3 format, be sure to check our online homilies page!